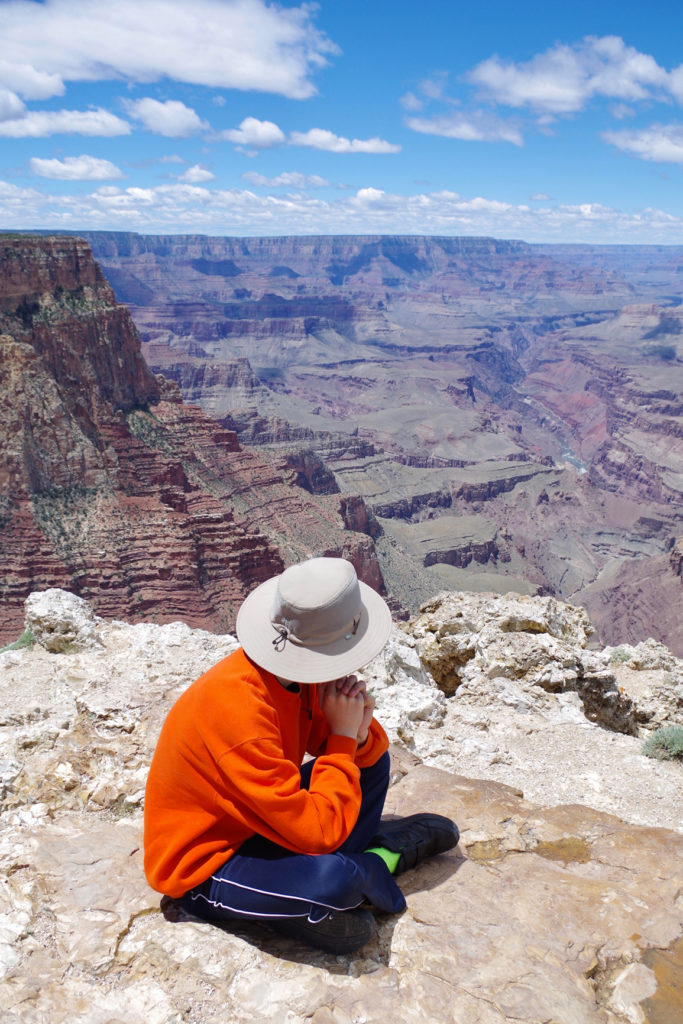 We eagerly waited for our middle son to enter his fourth grade year because we had some exciting plans, and he was going to help us afford them. How does that work, you say? Well, there is a program to encourage all U.S. kids to get outside and see our beautiful country. But it doesn't make sense to just give the fourth graders a pass without their families, because lots of people wouldn't go.
We've seen that ourselves, when our sixth grader got a free pass to Minnesota's historical sites, but we had to pay for everyone else to get in. Guess what? We somehow didn't make it to any of the sites, and eventually bought a family membership instead.
So what is this program? It's called Every Kid In A Park, and it gives any fourth grader a free pass for the whole family into any national park or monument. That's right, the whole family, free, into Yosemite or Yellowstone or the Grand Canyon, not to mention the lesser known (and less expensive) places. The more popular parks are looking at raising their prices to cover the costs of so many visitors, so it may soon be an even more valuable deal.
Our big trip to see the parks
Whenever we travel we try to find as many free or inexpensive places we can, and we make good use of our museum membership to get in to sister museums all over the country. As soon as our son hit fourth grade we applied for the National Parks Pass and started planning. Minnesota doesn't have a lot of nearby national parks, and we've been to Pipestone National Monument a couple of times already, so we figured we'd better go somewhere with a higher proportion of parks. That means going east or west. We went west.
We started our trip in May in Tucson, Arizona, where we took the paperwork in to the ranger station at Saguaro National Park. The ranger was so excited, and told us all about what to do while she was getting us the official pass. In fact, almost every single place we went the rangers were excited to see us. Either they totally love fourth graders or else hardly anybody is taking advantage of this excellent program.
After Saguaro we hit Montezuma's Castle, Sunset Crater, the Grand Canyon, Petrified Forest, and Glen Canyon Dam. Then, since we were into southern Utah, we went to see Zion and Grand Staircase-Escalante National Parks. On the way back to the airport in Arizona, we stopped in for a picnic lunch and a quick hike at Sunset Crater again, just because we could. We were bound and determined to get everything we could out of that pass!
How to get a pass for your student
Go to everykidinapark.gov to sign up. You have to print out the pass and bring it to a national park; electronic copies and copies of other people's passes won't work. Some places will be able to issue a plastic card pass, others will just accept the paper pass. And the fourth grader must be present to talk to the ranger for each entry. Sometimes they just wanted to see our son and give him a big smile, sometimes they wanted to chat him up about the park. The pass is good September 1st through August 31st of a student's fourth grade year. Yes, for homeschooled students who are 10 during the school year, too.
The pass doesn't cover things like parking and camping fees or special tours, and while some local or state parks might accept the pass, most don't. Check first, if you're unsure.
Finally, educators can get one paper pass for each of their fourth grade students, which means two things. First, it means that a whole class can visit a national park or monument together for free, and second, it means that each of those students will then be able to take their families to parks and monuments. I think that's pretty awesome.
What if your kid isn't the right age?
There are a couple of possibilities if your kid isn't a fourth grader and you would still like to take advantage of the discounts available. First, which is what we do, is tag along with the grandparents. Anyone over the age of 62 can get an annual senior pass for $20, or pay $80 for a lifetime pass, and get in free for the rest of their lives. Generally the pass covers everyone who is in the car with the grandparent.
Next, if a member of your immediate family is in the military, that person is eligible for a free annual pass, again good for the whole family. And if you have a family member with a permanent disability, that person is eligible for a free lifetime pass, as well as a 50% discount on some fees. There is a $10 fee for the disability pass to be processed if you apply online, otherwise check what paperwork you need and bring it with you.
Sometimes they ask to see identification for these discount and free passes, so it's a good idea to have it ready to hand over at the gate.
And finally, it can be worth it to buy a regular annual pass for $80 if you plan on visiting a bunch of parks in one year, especially if you're going to see the more popular (and expensive) parks. Even if it doesn't pay for itself completely, the money still goes toward keeping our parks in good shape and available at a reasonable price to everyone. That's worth a lot, in my opinion.
All of these passes are available at the National Park Service website.
Don't miss out on seeing our beautiful national parks and monuments! Get your fourth grader a pass and let them feel useful by paying for the whole family, see some parks with the grandparents, buy a regular pass or take advantage of a free pass you're eligible for, or just pay the regular entrance fees to see some amazing sights. (Most are very reasonable.) Just get out there, and remember to take the kids to see the visitor centers, which are always educational and interesting.
Every Kid In A Park
everykidinapark.gov
National Park Service Passes
https://www.nps.gov/planyourvisit/passes.htm